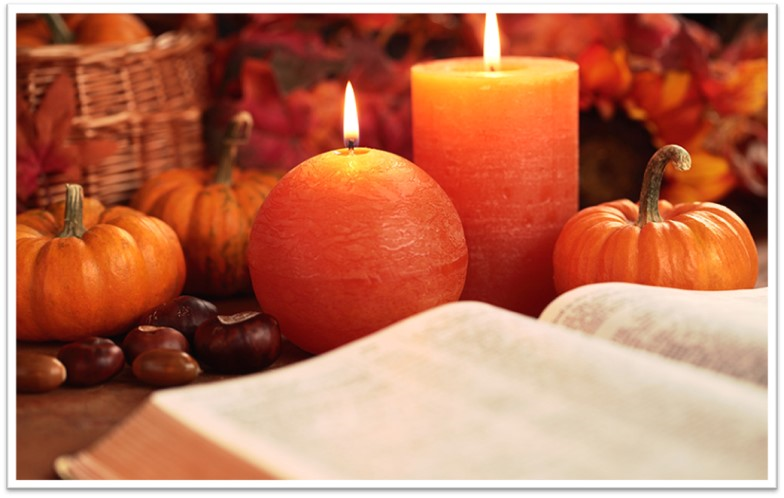 Thanksgiving – Four Hundred Years of History and Prophetic Unfolding In America
Thanksgiving – Four Hundred Years of History and Prophetic Unfolding In America
By Dr. Jake Baker
Few know, and even fewer will appreciate, that this is the 400th Thanksgiving in America.  Four hundred years of blessing on a land set aside by heaven itself.  For most of those four hundred years, we have been not just a part of, but the focal point of human history.  And whether we know it or not, we are also the convergence of history and headlines in the unfolding of prophecy.   
On that first Thanksgiving in October of 1621, both Pilgrims and Puritans celebrated a three-day feast of Thanksgiving to God for the blessings He had bestowed on them even though many had died during the hardships of the first winter in their new home.  Life in the 1600's was at best difficult, but now on this grand day in October, there had been a good harvest and at this moment it was a time of plenty. 
The Puritans who came here were seeking a land where they could worship God in spirit and in truth, escaping the persecution of England and its corrupt church.  The Pilgrims, Messianic believers who followed the Jerusalem church in defiance of the Roman church, fled to this new land seeking respite from martyrdom at the sword, burning stake, the rack and being sawn in two for their keeping of a Biblical Sabbath in defiance of Rome. 
So, despite the hardships in this new land, this land of promise was a bright and shining place where men were free to worship in peace the God of Abraham, Isaac, and Jacob.  They were free to dream great dreams, think as free men, and walk out their divine destiny according to the dictates of their faith and calling. 
Since that time, America has been replete with times of plenty, but sadly, the more plentiful the times, the less thankful we became.  We simply took for granted our successes and the memories of why we were blessed began to fade until now, Thanksgiving has been reduced to Black Friday sales and the beginning of what has become the most corrupt season and secular holiday of the year, Christmas.
But some of us, a few of us, still know what those early settlers knew … thankfulness.  Yes, we are thankful for the loved ones that bring texture, warmth, color and love to our lives by the warm embrace of loving husbands and wives and kids and grandchildren.  We're even thankful for the turkey in the oven and the pumpkin pie on the table.  But our true thankfulness should be, and of right must be reserved for Yahweh who has in His grace allowed us to be here at this moment in time – this crescendo in history where the world is in the process of changing into the darkness of prophetic unfolding. 
Why, you may be asking, should we be thankful that the prophetic winter is upon us?  Simple.  We are drawing closer to that day when all this toil, futility, and darkness will end and Messiah, the glorious light of eternity, gift of the Father, will reign supreme in all the earth.  So, as the light of freedom fades here in America and around the world, as the Shining City on the Hill grows dim and distant, look up and be thankful for your Redeemer draweth nigh and soon we will be in that New Jerusalem with our King.  A Day of Thanksgiving, indeed. Until then, we are commissioned to occupy until He comes.  Walk out your divine calling in boldness and sanctification … run the race to the end and having done all … stand. 
Ezra 3:11 And they sang together by course in praising and giving thanks unto the Lord; because he is good, for his mercy endureth for ever …
Psalm 100:4 Enter into his gates with thanksgiving, and into his courts with praise: be thankful unto him, and bless his name.
Ephesians 5:20 Giving thanks always for all things unto God and the Father in the name of our Lord Jesus Christ;
Colossians 1:12 Giving thanks unto the Father, which hath made us meet to be partakers of the inheritance of the saints in light:
Colossians 3:17 And whatsoever ye do in word or deed, do all in the name of the Lord Jesus, giving thanks to God and the Father by him.
Hebrews 13:15 By him therefore let us offer the sacrifice of praise to God continually, that is, the fruit of our lips giving thanks to his name.